Episodes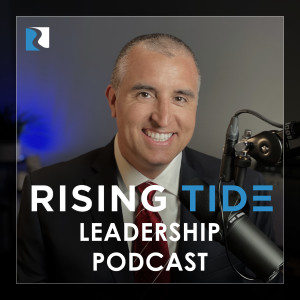 Monday Sep 13, 2021
Monday Sep 13, 2021
Leaders Deal with It: Part 2
Recap Part 1: 
Leaders Do Not React, They Respond.

Leaders Do Not Complicate, They Simplify.
Today's Episode:
3. Leaders Don't Dictate, They Relate.
a. Leaders Live Authentically
QUESTION: On a scale of "1 - Authentic" where are you?  
Most leaders have the potential to be authentic towards others, but many leaders struggle with how close or friendly they should be with the people who look to them for leadership.  
All great leaders serve the people who they lead. 
If you want to become a better leader, you should focus on being genuine in your positive thoughts towards them [those you lead]..
People don't want to follow others who are fake.  
QUESTION: Are you a true leader to your people, or just a poser? 
Leaders have to earn the influence that they have over their people.  And the best way to do this is to serve them and learn more about them every day. 
b. Leaders Live Vulnerably
There has to be a level of vulnerability that exists between you and them, if you really want to have influence.  
If you want to be effective in pressure situations, people need to know a little bit about you to know how you are going to deal with those situations.
When we share our hopes, our fears, our mistakes, with others, a level of vulnerability will more than likely raise the trust factor between you and your people.  
People want to follow somebody that they trust.  
Being vulnerable creates a space for leaders to let others into their head. 
If you're having a difficult meeting and you're not on the same page, it's ok to step back and say "I'm in a bad mood and can't cope with this right now, can we try it again tomorrow." - Brene Brown
Sometimes when you peel back the curtain and let people in, it will give them a little bit more reason to trust you. 
By stepping up and being vulnerable you create a space that will allow your organization to get to the next level.
Make it a habit of asking others for their opinion.
MO's Final Thoughts
It's important for you to have a clear head and be ready to tackle obstacles.  Your people expect you to do it, and you owe it to them.  So, remember that when you face these situations to be ready to respond correctly, keep the process simple, and always put relationships first.  If you do these, you are already on the right track.
Amazon Book Links:
The Five Levels of Leadership, John Maxwell - https://amzn.to/2WrHYOB
Special thanks to:
––––––––––––––––––––––––––––––
Work it out by LiQWYD https://soundcloud.com/liqwyd 
Creative Commons — Attribution 3.0 Unported — CC BY 3.0 
Free Download / Stream: https://bit.ly/l_work-it-out
Music promoted by Audio Library https://youtu.be/erSmdVocHO0
–––––––––––––––––––––––––––––