Episodes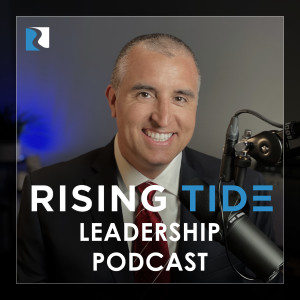 Monday Oct 18, 2021
Monday Oct 18, 2021
Visit Our Website: https://www.rtclc.com
Episode 45: Promoting Good Values (Part 2)
Part 1 Recap: 
What are my values? 

How do my values shape decisions? 
Part 2:
3. Where do my values need to be adjusted?
As leaders, we are committed to meeting the goals of all shapes and sizes. 
You have to find your role within that team and do what it takes to be effective.  That's where your values come into play.  
Are you a person of passion? Are you a person of resolve?  Are these values driving your decisions to be able to face adversity and get things done?  
a. Identify
If you don't first know what your values are, you really can't go very far from there. 
QUESTIONS: 
What are your values? 

What are the things that you allowed to drive your belief system? 

What makes me feel most comfortable, and when am I at my best? 
Moving away from your values:
When do you feel like you are lying to yourself or moving away from success? 

What are the things that make you feel out of whack and that you are being inauthentic? 
b. Activate 
So, if you want to activate what you are already good at, I would encourage you to take StregnthsFinder 2.0 assessment. 
Assessments don't define who you are or put you in a box, but I will tell you this. They will help you find out a little bit more about yourself, and what is important to you.
Ask yourself, "who do I admire?" If you really want to understand what you hold dear and value, looking at people that you want to emulate is always a great place to start. 
ACTION ITEM: Write down these steps to think about the qualities and values and people that you admire.
What is it specifically about each of these people that you admire? One or two attributes. 

What behaviors do you want to mimic and take action to make your own, on your journey? 
c. Evaluate 
Anything worth doing is worth evaluating. If you don't continue to evaluate the things that you do in life, they will not help you get better. The same goes with your values. 
The values themselves never change in their entirety.  But, you are at the same time learning to add to those values, so that you stay dedicated to the resolve that a leader needs to have to tackle those problems.  Allow obstacles to motivate both you, and your people.  This is the energy that becomes infectious and will drive your team.
Focus on your team, lead from your values, and empower others.  
Communication is your best friend and worst enemy at the same time.  
Empathy for your people in all situations is going to shape the way that business is done.
MO's Final Thoughts
My final encouragement would be that you build a culture of respect. Build a culture that places a premium on knowing values, and applying values to whatever they do in the company.  The benefit of this kind of culture is that when you run into opposing views, the values system will allow the company to bend, but never break. This is what's going to keep you more and alignment, and again, set your team up for success.
Special thanks to:
––––––––––––––––––––––––––––––
Work it out by LiQWYD https://soundcloud.com/liqwyd 
Creative Commons — Attribution 3.0 Unported — CC BY 3.0 
Free Download / Stream: https://bit.ly/l_work-it-out
Music promoted by Audio Library https://youtu.be/erSmdVocHO0
––––––––––––––––––––––––––––––