Episodes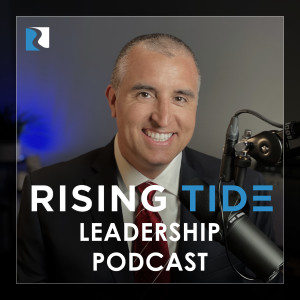 Tuesday Oct 26, 2021
Tuesday Oct 26, 2021
Visit Our Website: https://www.rtclc.com
Episode 46: A Key Ingredient to Success
"It's never going to be easy, but the pain that you're gonna go through is what makes it all worth it. The joy and true happiness I have found is actually going throught the struggles, through the pain and through the challenges of achieving my goals. It's always in the journey for me. That's where I believe the happiness lies and that's where the success lies, because that's where the growth is." Zara Abdulrehman, Pastry Chef 
That key ingredient is LOVE.  If you can learn to lead from the premise of loving and caring for the people that look to you for your leadership, it will really change everything you do for the better.  
1. Leaders Model Respect 
You really have to get out there and show people what it means to model respect.  
Learning to add to my values set had a lot to do with me learning how to treat others with respect.  
QUESTION: Do you model respect?  Do you give respect and at the same time earn the respect of your people?  
"You have to give respect to get respect."  
Leaders really never have a reason to be disrespectful. 
2. Leaders Show Encouragement
"I think it's important just to love. Me as a leader, the only thing I try to do is to love. To be there for somebody and show support and not show any dislike or any sign of hate or anything of that nature." Dak Prescott, Dallas Cowboys
So, with everybody getting constantly pushed down, as leaders, we need to be people of encouragement.  
QUESTION: Do you encourage your people?
HOMEWORK: Send somebody a handwritten note.  
This will set you apart as the person who adds value to others.  
3. Leaders Effect Transformation
Leadership is all about transforming lives.  My job is to help my people see and achieve a better version of themselves.  
QUESTION: How does that look in your line of work?  
You see, the difficult part about leadership is that we cannot think about ourselves and other people at the same time. 
"You can have everything in life you want if you will just help enough other people get what they want." Zig Ziglar
Your job as a leader is to find the passions of the people on your team, and help them achieve those goals and dreams.  
QUESTION: Who is it on your team that you know the least about?  This is a person that you should focus on this week.  Be intentional about your conversations with them and let them know that you sincerely want to get to know them.  
Relationships are the most important thing for a leader, which will bring about transformation of the entire person.  
MO'S Final Thoughts
Love is a very key ingredient, and dare I say, the ingredient for leading others. Take this week to assess yourself in each of those elements of loving others.  The more you look introspectively regarding this task, the more you will set yourself up to take your leadership to new heights.  
Special thanks to:
––––––––––––––––––––––––––––––
Work it out by LiQWYD https://soundcloud.com/liqwyd 
Creative Commons — Attribution 3.0 Unported — CC BY 3.0 
Free Download / Stream: https://bit.ly/l_work-it-out
Music promoted by Audio Library https://youtu.be/erSmdVocHO0
––––––––––––––––––––––––––––––