Episodes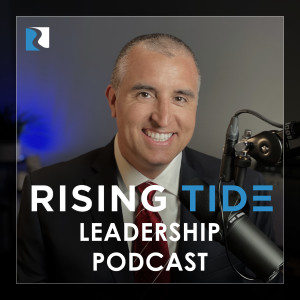 Monday Sep 20, 2021
Monday Sep 20, 2021
Episode 41: Be a Person of Action
"There are risks and costs to action. But they are far less than the long range risks of comfortable inaction." - John F. Kennedy
1. Have Necessary Conversations
Leaders are always about having conversations. If you do not want to talk to people then you are probably in the wrong business. 
You want to be intentional in these important and necessary conversations. 
Are there conflicts that need to be addressed? 
Sometimes conflicts can't be solved with one conversation. 
It's never the wrong thing to apologize. 
You want to be a person who is not afraid of conflict, but one who hits it head-on. And the reason for this, is that it builds your conflict management skills. 
QUESTION: What is the one conversation that you need to have today? 
When you are transparent with your people and help them understand that you are going to have conversations when they need to be had, it will raise the stakes. 
2. Communicate the Importance of People
People are everything. 
People are not just part of your business, people ARE your business. 
"People are definitely a company's greatest asset. It doesn't make any difference whether the product is cars or cosmetics. A company is only as good as the people it keeps." - Mary Kay Ash
QUESTION: Do you treat people this way or are people just another cog in the machine where you work? 
You have to figure out the value of every person in your sphere of influence.
You can get a lot of things wrong and business, but don't get the people part wrong. 
3. Align the Team
As a leader you are always crafting and honing your vision. 
QUESTION: Do you feel like you are in the right seat where you work? 
Whether you are in charge of a ton of people that make culture shifting decisions, or you have just a couple of people who look to you, it's still as important to make sure that you will line them with the vision and mission of your company. 
​​"The secret of success lies not in doing your own work, but in recognizing the right man to do it." - Dale Carnegie
You have to help your people understand that they have power within the company. 
Lending a listening ear will definitely help you understand them more. 
The best way to align your team is to be honest. 
Help the team be people who help each other. 
Closing Thoughts
These are all actions that need to be taken now. Your company and people need a win. The time is always now. If you wait, it affects the effectiveness of your team negatively in the long haul. 
Ask yourself:
What is the one most important conversation that you have to have today? 

Are you really putting people first? 

Are you focused on bringing the team together? 
Amazon Book Links:
Good to Great, Jim Collins - https://amzn.to/3zimkK1
Special thanks to:
––––––––––––––––––––––––––––––
Work it out by LiQWYD https://soundcloud.com/liqwyd 
Creative Commons — Attribution 3.0 Unported — CC BY 3.0 
Free Download / Stream: https://bit.ly/l_work-it-out
Music promoted by Audio Library https://youtu.be/erSmdVocHO0
––––––––––––––––––––––––––––––