Episodes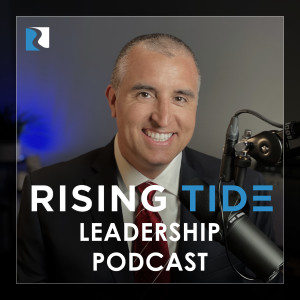 Monday Nov 20, 2023
Monday Nov 20, 2023
Episode 65 - Building Your Leadership Well: Going Deep to Lead Effectively
You are only as good as you continue to learn. 
To become a truly competent leader, you must dive deep into your field or industry.
Competence allows you to:
Make informed decisions

Solve complex problems effectively

Earn the respect and trust of your team 
Depth Inspires Confidence
Leaders who invest in their development and continually deepen their skills become a source of inspiration and confidence for their teams.
QUESTION: What is one quality you look for in a leader that instills confidence? 
Deep leadership involves having a well-rounded understanding of not only your domain but also your team's needs and aspirations. 
Leadership is not about being selfish.
When your team witnesses your commitment to self-improvement, it encourages them to do the same, creating a culture of growth and excellence within your organization.
BOOK: The Gap and The Gain, by Dan Sullivan and Dr. Benjamin Hardy
Don't worry about what other people are doing. Worry about what you are doing.
QUESTION: Are you inspiring confidence in the people you lead? 
Depth Encourages Adaptability
Blessed are the flexible, for they will not be broken.
Deep-rooted knowledge and skills make you better equipped to adapt to changing circumstances. 
There would be no need for leaders if things didn't go wrong. 
You can make changes or you can make excuses, but you can't do both. 
BOOK: Leading Up, by Michael Useem
Good leaders ask great questions. 
Stay dynamic. Don't be stale. Change with the times. 
In times of crisis, depth of knowledge becomes an anchor for the team, fostering trust and stability.
MO's Final Thoughts:
Strive to master your field and continuously expand your knowledge. Be a source of inspiration and confidence for your team through your commitment to growth. By nurturing your Leadership Well, you not only become a more effective leader but also empower your team to reach new heights of success. 
Amazon Book Links:
Leading Up: How to Lead Your Boss So You Both Win, by Michael Useem - https://a.co/d/3j5Fxp4 
The Gap and the Gain, by Dan Sullivan and Dr. Benjamin Hardy - https://a.co/d/1vMDQk3 
Special thanks to:
––––––––––––––––––––––––––––––
Work it out by LiQWYD https://soundcloud.com/liqwyd 
Creative Commons — Attribution 3.0 Unported — CC BY 3.0 
Free Download / Stream: https://bit.ly/l_work-it-out
Music promoted by Audio Library https://youtu.be/erSmdVocHO0
–––––––––––––––––––––––––––––