Episodes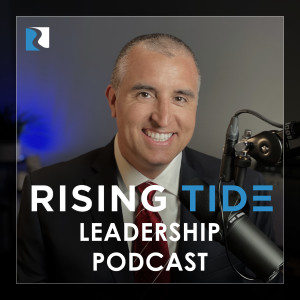 Monday Aug 30, 2021
Monday Aug 30, 2021
Episode 38: Courage in Your Decisions
1. Courage Begins With Self
"A leadership position doesn't give a person courage, but courage can give him a leadership position." - John Maxwell, The Five Levels of Leadership
Before you can face any test as a leader, you have to be ready to deal with it internally.  
REFLECTION QUESTIONS: 
Are you willing to make the tough decisions that you are afraid to make?  

Are you willing to let go of everything that is familiar to you and go into new spaces? 

Ask yourself whether or not you are willing to make things right, and not just sweep them under the rug. 
"The ultimate measure of a man is not where he stands in moments of comfort and convenience, but where he stands at times of challenge and controversy." - Martin Luther King Jr. 
Leaders stand when it is most important, and usually when it is least enjoyable.  Stand up for your people and they will stand up for you.
2. Courage Inspires Others.
Leaders inspire others to be their very best. 
If you are not helping others to move from one place to another, they are going to find somebody else to do just that.  
"Courage is Contagious." - Billy Graham 
When you choose to take a stand, it stiffens the backbones of those around you.  
Your people are looking for you to make decisions.  
It is not about always being right. It is about taking initiative and taking calculated risks for the sake of the people that look to you.  
Principle over perception: What makes you look good is not always the best decision.  And, what makes you look bad, or to be the bad guy if you want to put it that way, is not always the wrong decision.  
3. Courage Expands Opportunities.
If you want to know the limit of a leader, look no further than their fears.  
We all have stuff that we are afraid of.  We all want to feel safe.  But, it is stepping out of our comfort zones that is going to lead us to great opportunities.  
When we have the courage to face our fears, and step out of those comfort zones, doors will inevitably be opened.  
"Inaction breeds doubt and fear. Action breeds confidence and courage. If you want to conquer fear, do not sit home and think about it. Go out and get busy." - Dale Carnegie 
QUESTION: Are you going to be a person of action? What do you need to get going on?  
MO's Final Thoughts:
Have courage. Get out there and do it. We all have things we don't want to do. Talk to someone you trust. If you have that in your life, you can face these fears and  have courage within them. Then you will start to inspire others and open opportunities for yourself and others. 
Amazon Book Links:
The Five Levels of Leadership, John Maxwell - https://amzn.to/2WrHYOB
Special thanks to:
––––––––––––––––––––––––––––––
Work it out by LiQWYD https://soundcloud.com/liqwyd 
Creative Commons — Attribution 3.0 Unported — CC BY 3.0 
Free Download / Stream: https://bit.ly/l_work-it-out
Music promoted by Audio Library https://youtu.be/erSmdVocHO0