Episodes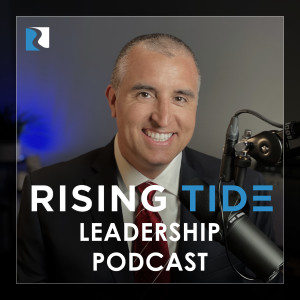 Monday May 15, 2023
Monday May 15, 2023
Episode 55: Developing a Change Mindset 
Identify common obstacles to change.
"Everything changes and nothing remains still, and you cannot step twice into the same stream." - Heraclitus
Recognize the common obstacles individuals and organizations face when making changes. 
Fear of failure
Resistance to change
Rusty Nail Story: A lot of people are experiencing the comfort of the status quo: 
Even if the current situation is not ideal, people may feel comfortable with it 
because it is familiar..
QUESTION: What's the rusty nail in your life? 
Adapting to new situations. 
Social challenges: 
Emotional challenges: 
Increase your learning agility. 
Learning Agility is crucial for successful leaders.
Learning agility can help leaders grow and adapt in three ways:
Increase problem-solving skills 
Improve the ability to collaborate 
Navigate complex and uncertain situations. 
Implement a change mindset.
Concrete strategies and techniques to try in order to become more comfortable with change and develop a growth mindset. 
Practicing mindfulness
Take a few deep breaths before responding to a situation. 
Help you to respond more calmly and thoughtfully to difficult situations at work

Help you to feel more grounded and centered throughout the day. 
Seeking out new learning opportunities
Start by setting goals for yourself and seeking out opportunities to learn and grow. 
Asking for feedback from others. 
Provides valuable insights that can help you improve your skills, knowledge, and performance. 

Helps you understand how others perceive your work, what your strengths are, and where you can improve.

You can identify areas where you may be falling short and make adjustments to improve your performance. 

Help you build stronger relationships with your colleagues and supervisors by demonstrating a willingness to learn and grow. 
MO's Final Thoughts
Never go it alone. Surround yourself with like-minded colleagues who share your commitment to develop and Change Mindset. Seek out opportunities to collaborate with others, share knowledge and ideas, and support each other in your professional development.
By adopting a change mindset and focusing on learning and development, you can create a culture of growth at work and inspire others to embrace new ideas and approaches. This can lead to increased creativity, innovation, and productivity, and help you and your colleagues achieve your goals and succeed in your careers.
None of this stuff is easy, but that's why it's so important. Give it a shot. Make the change in your mindset, and watch those around you get better as well. And that's what leadership is about!
Amazon Book Links:
The Courage to Live Your Dream, Les Brown - https://amzn.to/42VZKpD
Special thanks to:
––––––––––––––––––––––––––––––
Work it out by LiQWYD https://soundcloud.com/liqwyd 
Creative Commons — Attribution 3.0 Unported — CC BY 3.0 
Free Download / Stream: https://bit.ly/l_work-it-out
Music promoted by Audio Library https://youtu.be/erSmdVocHO0
–––––––––––––––––––––––––––––