Episodes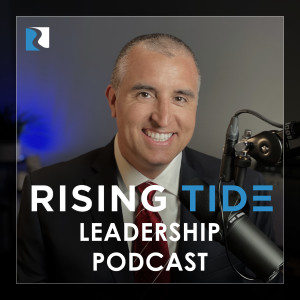 Monday Jun 19, 2023
Monday Jun 19, 2023
Episode 57: Effective Listening for Leaders 
Listening Builds Communication
As a leader, the way that you communicate with your team is as important. 

A leader needs to be able to communicate effectively.

Listening well is a crucial aspect of effective communication for a leader.
By actively listening:
A leader can understand their perspectives, concerns, and ideas.

Allows the leader to respond appropriately and make informed decisions. 

Teams are more likely to trust and engage with their leader, fostering a positive and productive work environment.
QUESTION 1: Are you listening to those perspectives, concerns, and ideas? 
Active listening - write stuff down
Personal Journal

Leadership Journal 
Listening Builds Relationships
BOOK: How to Win Friends and Influence People, Dale Carnagie  
When you take a genuine interest in people, and listen to them, you will not only endear yourself to them, you will also learn a whole heck of a lot about them.
Listening well helps a leader build strong relationships with their team members. 
When leaders genuinely listen
It demonstrates respect, empathy, and support. 

It creates a sense of psychological safety, encouraging open dialogue and collaboration.

Fosters a sense of belonging and loyalty among team members, which in turn boosts morale, productivity, and retention.
Listening Builds Insight
Apollo 13 Movie - a great story about leadership, and what it means to work together. 
He found the right people

Put them in the right places

Made sure that everybody communicated and listened to one another. 

Deferred to others in that situation, all while maintaining strong leadership 
A leader who listens well can tap into their team's collective intelligence. 
By actively listening, a leader can harness this diversity and gain valuable insights that may lead to innovative solutions and better decision-making. 
MO's FINAL THOUGHTS
Learning how to listen well allows a leader to enhance their communication skills, build strong relationships with their team, and tap into the diverse insights of their employees. These benefits ultimately contribute to better decision-making, improved team dynamics, and increased overall effectiveness as a leader.
Amazon Book Links:
"How to Win Friends and Influence People", Dale Carnegie -  https://amzn.to/3Eub5n7
Special thanks to:
––––––––––––––––––––––––––––––
Work it out by LiQWYD https://soundcloud.com/liqwyd 
Creative Commons — Attribution 3.0 Unported — CC BY 3.0 
Free Download / Stream: https://bit.ly/l_work-it-out
Music promoted by Audio Library https://youtu.be/erSmdVocHO0
–––––––––––––––––––––––––––––