Episodes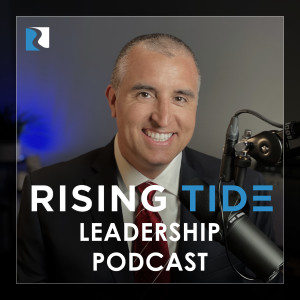 Monday Nov 08, 2021
Monday Nov 08, 2021
Visit Our Website: https://www.rtclc.com
Episode 48: It's the Little Things
1. Break Down the Vision
I think most of us have a lot more conversations with ourselves in our own head than we actually communicate to others on our team.  
Everything comes back to communication.  
If you want to be an effective leader, you have to work on your communication skills on a daily basis.  
If you just let your people come to work and don't give them a purpose for what they are doing, why would they think to move the vision of the company forward?  
"Leaders are dealers and hope." - Benjamin Disraeli 
Breaking down the vision gives people clarity on the here and now.
2. Lay Out the Puzzle 
What is the best way to construct the puzzle?  You lay out the pieces and then you start from there.  
When you lay out the puzzle for your people, it gives them something to look forward to.  
There will be a lot of times in your business where the uncertainty meter is high.  And when the uncertainty meter is high you have to be able to play up the puzzle, point to the places where you need them to work on, and that allow them to work on the little things.
QUESTION: Do you continually lay out the pieces of the puzzle and point them out to your people and work on stuff with them?  
Your people are counting on you, lay out the puzzle, and help them start to construct the important parts of their jobs for the betterment of the company.
3. Empower Your People
Focusing on the little things does not give you license to micromanage your people.
"I've missed more than 9000 shots in my career. I've lost almost 300 games. 26 times, I've been trusted to take the game winning shot and missed. I've failed over and over and over again in my life. And that is why I succeed." - Michael Jordan
Empower your people and don't get in their way.  
Allow your people to fail. The more they fail, and you have conversations in teaching moments with them, the more they will move forward.  
MO's Final Thoughts
Just remember that the little things always lead to the big things.  We always want to get through the menial tasks that we think are not important and do big things in life.  But, when we focus on the little things, big things happen.  Remember, the shortcut to the process is the process.  And the most important part of the process is focusing on the little things.  That's what matters.
Special thanks to:
––––––––––––––––––––––––––––––
Work it out by LiQWYD https://soundcloud.com/liqwyd 
Creative Commons — Attribution 3.0 Unported — CC BY 3.0 
Free Download / Stream: https://bit.ly/l_work-it-out
Music promoted by Audio Library https://youtu.be/erSmdVocHO0
–––––––––––––––––––––––––––––