Episodes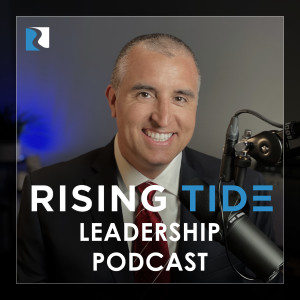 Monday Jul 03, 2023
Monday Jul 03, 2023
Episode 58: Leaders Always Ask Questions
Being in relationships with people is all about having great conversations. 
Asking Good Questions Fosters a Culture of Learning and Collaboration
Collective efforts are greater than any individual's contribution. 

Creates a profound sense of camaraderie, trust, and unity among the team members.

Actively listening to others' perspectives, valuing their contributions, and working together can foster a culture of respect and collaboration 
QUESTION: Does your team ask good questions?
Too many leaders do not ask the right questions and fail to get others involved.
Great leaders encourage their team members to:
Think critically

Explore new ideas

Share their perspectives 
By asking good questions, leaders empower their team members, build trust, and create a collaborative atmosphere that drives growth and success.
Asking Good Questions Fosters a Deeper Understanding of Challenges and Opportunities
All great success stories have a team of people that get the job done. 
QUESTION 1: What are the core values that define your company, and how do you live up to them? What is the one thing that matters? 
QUESTION 2: What are our customers' needs, and how can we surpass expectations?
Asking good questions:
allows leaders to better understand the challenges and opportunities they face

uncovers hidden issues, identifies potential risks, and discovers untapped opportunities
It's not just important to know what you do, you also need to know what you don't do. 
Leaders gather relevant information to:
challenge assumptions

explore alternative viewpoints

enable more informed decisions

develop comprehensive strategies

navigate complex situations 
Ultimately, by asking good questions, leaders enhance their ability to anticipate and address challenges effectively while capitalizing on emerging opportunities. 
Pick up the rock and ask:
What am I doing right? 

What am I not doing right? 
Asking Good Questions Fosters Team Development and Empowerment
Asking and Listening:
Creates an environment where employees feel valued, empowered, and motivated 

Taps into the collective potential of the workforce and drives positive change 

Helps team members develop critical thinking skills, increase their self-awareness, and identify areas for improvement

Allows leaders to offer constructive feedback and guidance and nurture professional development 
MO'S FINAL THOUGHTS
By actively listening, we demonstrate respect for diverse perspectives and ideas, fostering a culture of inclusivity and collaboration. Listening allows us to tap into the collective wisdom of our team, unlocking innovative solutions and enhancing decision-making. We cultivate trust, boost engagement, and empower. Embrace the power of listening.
Special thanks to:
––––––––––––––––––––––––––––––
Work it out by LiQWYD https://soundcloud.com/liqwyd 
Creative Commons — Attribution 3.0 Unported — CC BY 3.0 
Free Download / Stream: https://bit.ly/l_work-it-out
Music promoted by Audio Library https://youtu.be/erSmdVocHO0
–––––––––––––––––––––––––––––