Episodes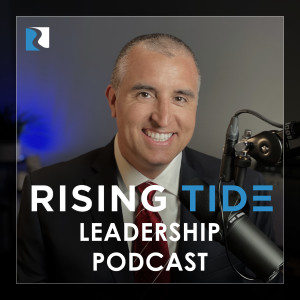 Monday Oct 16, 2023
Monday Oct 16, 2023
Episode 64: Leaders Attract the Best
Point 1: Remote work is here to stay
Leaders need to recognize that remote work is here to stay for a significant portion of the workforce. 

Invest in technology, foster open communication, and create a work culture that values flexibility. 

Leaders who adapt and provide the tools and support for remote work will thrive in this new environment.
BOOK: "The Four Hour Work Week," by Tim Ferris 
It's not about punching a time clock, it's about helping people to be able to get their stuff done. 

If you breed a culture of people that are trying to skirt work and not get things done, it says more about you as a leader than it does about them as an employee. 

"There are no bad teams, only bad leaders". Jacko Wilinks

Be better at leadership and give your people a reason to be a part of your team. 
Point 2: Offer flexibility and adaptability
Leaders should empower their teams to choose the work setup that suits them best.

Encourage open dialogue about preferences

Provide the necessary resources for each scenario

Flexibility will increase employee engagement and retention

Leaders find a way to help their people want to be a part of their culture
QUESTION: Are you creating flexibility and adaptability?
EXERCISE (Write it down): What parts of your job are the in-person kind of stuff and what parts are virtual? What percentage of time do you have to be with your people and what percentage do you not need to be in front of others? 
Help your superiors understand those percentages

Make sure that your people that look to you as a leader are okay with those percentages as well. (Do your percentages match up with what the company, and your people, need from you?)
Point 3: Embrace Technology
Leaders must ensure that their teams have access to secure systems, collaborative tools, and effective communication platforms. 

You should be learning from young people on your team more than they are learning from you
BOOK: "21 Irrefutable Laws of Leadership" by John Maxwell - You have to make the connection before you can have people buy into your vision.
QUESTION: Are you the kind of leader that people want to follow? Are you using technology in the right way?
MO's Final Thoughts
If you want the best people, if you want to attract the best, you are going to need to continue to change with the times. If you have stuff that you can have your people do remotely, give them the autonomy to do that. Let them show you how good they are. And, reward those who do well and get rid of the people who refuse to get on board and make those changes with you. If you make these changes, it is only helping them because this is the kind of work that people are expecting today. They would rather be at home or be on the move or whatever, and you as a leader just need to get things done. Why don't you just learn how to do both? That's the true Mark of leadership. 
 Amazon Book Links:
The Four Hour Work Week, by Tim Ferris - https://a.co/d/fYpk9ia 
21 Irrefutable Laws of Leadership by John Maxwell - https://a.co/d/3e0sziL 
Special thanks to:
––––––––––––––––––––––––––––––
Work it out by LiQWYD https://soundcloud.com/liqwyd 
Creative Commons — Attribution 3.0 Unported — CC BY 3.0 
Free Download / Stream: https://bit.ly/l_work-it-out
Music promoted by Audio Library https://youtu.be/erSmdVocHO0
–––––––––––––––––––––––––––––