Episodes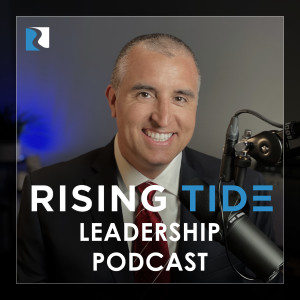 Monday Aug 16, 2021
Monday Aug 16, 2021
Episode 36: Leaders Build People 
1. Chart the Course
BOOK RECOMMENDATION: 21 Irrefutable Laws Of Leadership, John Maxwell's - The Law of Navigation. 
Vision is always the most important thing for a leader. 
You have to know where your  company or organization is going. 

You need to help people come alongside you to be on that journey. 
QUESTION: Are you a good Navigator?
It's really about making good decisions.
QUESTION: Who are the navigators in your field? Who are the people who chart the course well to get things done in the organizations that are like yours? Do you follow these people? 
Hone in on making yourself better. 
What are the things that you are best at? You need to capitalize on those leadership skills and use them to make others around you better. 
2. Challenge the Status Quo
One of the best parts about being a leader is that people expect you to buck the trends and challenge the status quo. 
Challenging people needs to be something that you get really good at.  
Everybody on your team is unique.  As the leader, it is your job to make sure to inspire people in a way that they learn how to be themselves. 
Learn how to be unique yourself.  Don't try to be something you are not. 
Self-awareness is key to becoming a better leader.  Helping your people in their quest for self awareness will set you apart in the eyes of those you lead.  
BOOK RECOMMENDATION: Linchpin: Are you Indispensable?, Seth Godin
Once you can understand that you are a changed person, then you can help others.  
QUESTION: Do you have somebody pushing you to be better?  Are you taking that knowledge and helping others become better?
Leaders are those who are comfortable enough to stand out and be different.  
Are you doing what needs to be done to help your people be authentic and transparent? 
Don't settle for the behaviors and lack of competencies that every other person in their lives allows.  Be better than that.  
3. Change the Whole Person
If I really want to get the best out of my people, I cannot just worry about what they do at work.  
QUESTION: Do you have the qualities in you to help others achieve greatness? 
When the people on your team become better, not just as a worker, but to their core, you will increase employee productivity, job satisfaction, and the overall well-being of the people on your team.
Happy employees are better performers.  
Caring for the mindset of your people is one of the most important things you can do.  
People can change.  When you realize that your people can write a new piece to their story every day, you set them up to be influencers of others, ready to make an impact for other team members, and of course, the company as a whole.
Your job is to be there for your people and change them to their very core.   
MO's Final Thoughts:
Leaders build people and they build themes. You can't build great teams without great people.  Increase your visibility among your people and let them know that you see them as well.  Never promote yourself, but always put others before you and let them know that their goals are important to you.  
When you realize that building into people is the most important thing you can do as a leader, you will unlock the door to a new dimension of what it means to be successful. 
Amazon Book Links:
21 Irrefutable Laws Of Leadership, John Maxwell -https://amzn.to/2VXa6Zm
Linchpin: Are you Indispensable?, Seth Godin - https://amzn.to/3lYwDQl
21 Indispensable Qualities of a Leader, John Maxwell - https://amzn.to/2Xt1Dha
Special thanks to:
––––––––––––––––––––––––––––––
Work it out by LiQWYD https://soundcloud.com/liqwyd 
Creative Commons — Attribution 3.0 Unported — CC BY 3.0 
Free Download / Stream: https://bit.ly/l_work-it-out
Music promoted by Audio Library https://youtu.be/erSmdVocHO0
–––––––––––––––––––––––––––––