Episodes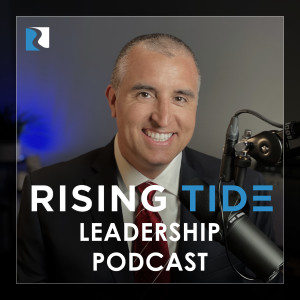 Monday Aug 23, 2021
Monday Aug 23, 2021
Episode 37: Leaders Build Teams
1. Define Culture
BOOK RECOMMENDATION: Dare to Serve, Cheryl Bachelder 
Your people need to know exactly where they are going, what the vision is, and how the mission supports that vision. Then you can move to the next part, which is helping people find a place on the team to be effective.
The Leader's Guide to Corporate Culture, Harvard Business Review.  - "Culture eats strategy for breakfast." 
Whatever the culture is in your particular circumstance, is going to shape the attitudes and behaviors of all of the people on your team, and even the way that they respond to clients, and anybody else who comes in contact with your company.
The way that you understand your company's culture will determine how you communicate that to your people. 
Your people are going to interact with you based on the way that you communicate culture to them. 
You have to figure out what your focus is as a leader and then bring your people into that culture. 
2. Define Roles
Your job description in the company and your responsibilities are very different. 
How do you help your people understand what their roles and responsibilities are? 
Clarity. Your people need to be absolutely clear of what they are supposed to do. 
You have to realize that whatever part you play on the team, or in your company, is definitely going to either indirectly or sometimes directly affect the other players on the team. 
3. Define Success
Cheryl Bachelder says in her book that the work of the leader is to "create a work environment that yields superior results." 
QUESTION: Do you define success for your team in such a way that it is able to be seen at a 30000 foot view and at the same time be able to be taken in with bite-sized amounts?
If you are brought into your company as a culture shifter or culture changer, you have to figure out for yourself what success is. 
What does success look like for you? What is the win for you?
As the leader, you need to define success in your head, then you go back to defining culture. 
We are always affecting, changing, and adding to culture. 
MO's Final Thoughts:
When building a team, you are the one the brings everything together. You're the one that has to make sure that your people have laser focus and clarity. You need to be at all levels of the process. When you are building a team you have to be thinking about culture, roles and success. When you can be very clear about that, your people will be less frustrated. When your people win, they want to do more, and they want to do better. Look at your team and ask yourself, "What is it that I need to do better with my team?" Look at your definition of success and ask, "How close am I to getting this done?"
Amazon Book Links:
Dare to Serve, Cheryl Bachelder - https://amzn.to/3D8KMQY
7 Habits of Highly Effective People, Stephen Covey - https://amzn.to/3D4Bc1v 
Special thanks to:
––––––––––––––––––––––––––––––
Work it out by LiQWYD https://soundcloud.com/liqwyd 
Creative Commons — Attribution 3.0 Unported — CC BY 3.0 
Free Download / Stream: https://bit.ly/l_work-it-out
Music promoted by Audio Library https://youtu.be/erSmdVocHO0
––––––––––––––––––––––––––––––