Episodes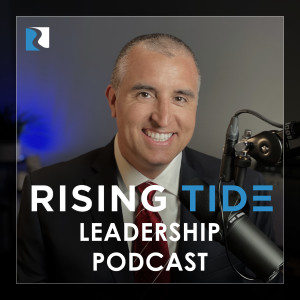 Monday Nov 22, 2021
Monday Nov 22, 2021
Visit Our Website: https://www.rtclc.com
Episode 50: Leaders Find A Role
"The star of the team is the team." - John Wooden
If you want to be a good leader, you have to know both your role, and the role of each person on your team.  
1. Know Your Role
 If you don't know your role, then it is going to muddy the waters for everybody else on your team.  
QUESTION: What is it that you can do that nobody else can do that only you can do?  
You are a unique individual and bring specific leadership abilities and qualities to the table.  
2. Know Their Roles
I would have to say that one of the most frustrating circumstances for anybody to be in is when they lack clarity.  
Once you know your role, it's time to get people around you with the gifts and skill sets that complete whatever you're doing.
What if you are not a vision person? What if you are really good at leading in the practical everyday stuff?  Get people on your team who have a high vision quotient.
You have to be secure enough in your own leadership abilities to realize that not only are you going to have people on your team who do stuff better than you, but that you need those people.
QUESTION: What kind of people do you need to have around you to make you better?  What people do you need on your team to do stuff that you are not able to do? 
3. Know the Success Path
You have the ability to simplify whatever situation you are in with your people.
When people know the success path, and what they need to do to be successful, it really opens them up to flourish and get things done.  
QUESTIONS: What is it that you need to focus on in your role, and the roles of your people, to increase the success factor at your place of work?  What is the missing ingredient? 
All of us need guidance.  All of us have blind spots.  
"It's supposed to be hard. If it wasn't hard, everyone would do it. ... If it wasn't hard, everyone would do it. The hard is what makes it great." Jimmy Doogan (Tom Hanks), A League of Their Own
If it were easy, everybody would do it.  But, if you want to be the kind of person that creates a success path for your people, you have to focus on the stuff that others will not.  
MO's Final Thoughts:
Leaders are always frustrated, because, leaders are never really satisfied with where things are. We want to go to other places and be better.  But, it's always important for you to know your role, know the roles of everyone on your team, and get that team on the right path.  When you begin to do this, people will rally behind you and run towards whatever goals are in front of them.  
Special thanks to:
––––––––––––––––––––––––––––––
Work it out by LiQWYD https://soundcloud.com/liqwyd 
Creative Commons — Attribution 3.0 Unported — CC BY 3.0 
Free Download / Stream: https://bit.ly/l_work-it-out
Music promoted by Audio Library https://youtu.be/erSmdVocHO0
––––––––––––––––––––––––––––––