Episodes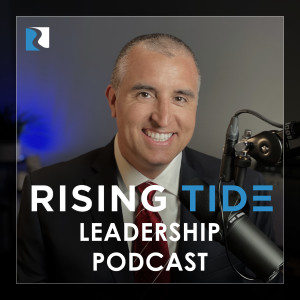 Wednesday Nov 17, 2021
Wednesday Nov 17, 2021
Visit Our Website: https://www.rtclc.com
Episode 49: Leaders Foster Emotional Stability
Today what we want to talk about is the way that leaders should approach the emotional stability of both themselves and the people on their teams.  
1. Leaders Promote Genuine Emotion.
Sports is a great metaphor for life.  If you want to find out the way somebody is to their core, just put them in some kind of competition situation.  
We have to learn as leaders that emotion should be a genuine part of who we are. Sometimes using emotion can be tricky and messy.  
QUESTION: What are the emotions you display on a daily basis?  What is it that you do best to be the best version of yourself?  Are you a person who uses emotion to get your point across?  
A lot of us are feeling stuff in our lives, and we don't always want answers from somebody.  But what we do want is for someone to listen.  
2. Leaders Employ Emotion Properly.
I do not understand when people try to will themselves to win a competition.  Meaning, sometimes people don't put in the preparation to get things done, but they think that if they are emotional enough, and can feel spirited enough, then they can get the job done.  
Hard work wins.
You have to teach your team to play with emotion, but not let them be emotional.  That's going to end up getting in the way of them doing what they prepared to do.  We don't want them to overexert themselves, or put an effort in ways that they have not trained to do.  They will not be able to sustain it.
QUESTION: Are you promoting standards and expectations that are able to be handled by your staff? 
As leaders, the responsibility falls on us.  
"Everything rises and falls on leadership." - John Maxwell  
It's up to us to help people use genuine emotion, and employ that emotion properly.  
Never say something that you can't take back.
QUESTION: In your own life right now, how do you need to reign in your emotions and employ them more properly?  
3. Leaders Take Responsibility for Emotion.
Whether you are the person who wears their emotions on their sleeve, or you are on the other side of the spectrum, it is still important to know what those emotions are.  This is where journaling comes in handy.
The reason that we Journal, or talk to other people, or think back on the stuff that we do, is to make sure that we can get better. 
Sometimes we get upset or frustrated with something, but we bury those feelings.  And the reason we do that is because we don't know how to deal with them or express them.  Leaders have no room for failure in this department.
The businesses that put a high premium on helping people take responsibility for their emotions, and walking through the different hardships of life, will continue to grow and thrive.
The men and women in your care deserve your very best.  You have to first take responsibility for your own emotions, and when you are modeling it, then you will be able to help others by encouraging them to do the same.  
QUESTION: What are the emotions that you have that make you a better leader?  What are the emotions that you have that hinder you in leading others?  
You have to take responsibility.
When you take responsibility for your emotions, it will open up a ton of new possibilities in your leadership.
MO's Final Thoughts:
Don't let your emotions get the best of you.  When you are able to know when the good and bad emotions are coming on, it will set you up to deal with those emotions, and use them in a positive way, both for yourself and those who look to you for your leadership.
Special thanks to:
––––––––––––––––––––––––––––––
Work it out by LiQWYD https://soundcloud.com/liqwyd 
Creative Commons — Attribution 3.0 Unported — CC BY 3.0 
Free Download / Stream: https://bit.ly/l_work-it-out
Music promoted by Audio Library https://youtu.be/erSmdVocHO0
––––––––––––––––––––––––––––––