Episodes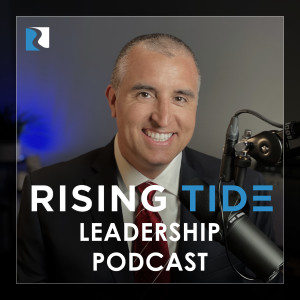 Monday Sep 27, 2021
Monday Sep 27, 2021
Episode 42: Leaders Get Out of the Way
"Empowered people aren't concerned about competing with anyone, they are busy empowering others. "I don't know about you, but that's the kind of team that I want to build. Peter Shephard
1. Make Others Feel Heard
Good leadership is about not doing everything yourself, but bringing people alongside you.  And the way that you do that is to make people heard.
The way that we structure input for our people is really important: how you disseminate information to people, how people get that information to one another, and also to you. 
The bottom line is that you give your people a platform to be heard, and more than that, understood.  When you take ownership of the process, they will take ownership of their work.  
2. Make Respect the Norm
I think this is where a lot of leaders miss it.  
They don't respect others, 

They refuse to model respect to the people that look to them
These are the people who are obtuse and cannot see their own mistakes.
You never want your people to be in survival mode.  
You have to give respect to get respect.  
Start giving people the respect that they deserve.  Even if sometimes they don't seem like they do.  Give them a chance.  Help them to be people who are respectable.
When you model respect to those who report to you just watch, they will begin to show you respect as well. 
Practical ways to show respect:
Make eye contact with people.  

Smile
3. Make Delegation Standard Practice
Every great leader needs to learn how to delegate. 
The goal here is to be the kind of leader who can delegate tasks to others without letting stuff spin out of control, and at the same time not allowing mistakes to creep into the process.  
Find the people with the specific skill sets to do the things that need to be done.  
Once you find people with a specific skill set to do tasks, get out of their way and let them do it.  Don't be a micromanager.
When you delegate, you give both freedom and empowerment to your employees.  
When we delegate, employees get the sense that they are being trusted, and will feel encouraged.  When we feel encouraged, we naturally want to encourage others.  
MO's Final Thoughts
You have to embrace these three pieces of the puzzle.  It doesn't matter if you are a natural leader or a learned leader.  What matters is that you empower other people to do what they do well, and do it for the team.  
What are some of the ways that you can go to the office this week and empower others?

What are the areas in your own life that you need to work on so that you can delegate properly to others and let them feel empowered, as they should be? 
That's your task for this week.  Take these steps, get out of the way, and watch your employees do great things.
Special thanks to:
––––––––––––––––––––––––––––––
Work it out by LiQWYD https://soundcloud.com/liqwyd 
Creative Commons — Attribution 3.0 Unported — CC BY 3.0 
Free Download / Stream: https://bit.ly/l_work-it-out
Music promoted by Audio Library https://youtu.be/erSmdVocHO0
––––––––––––––––––––––––––––––