Episodes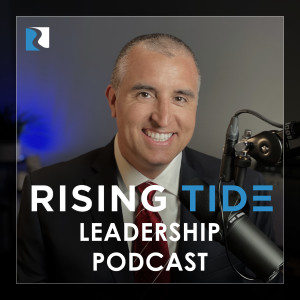 Monday Dec 06, 2021
Monday Dec 06, 2021
Visit Our Website: https://www.rtclc.com
Episode 51: Leaders Make it Count
1) Leaders Live in the Future
Leaders are the ones that think big and are willing to take chances.  
QUESTION: Are you living out your purpose with passion and reaching for new heights? 
Leaders look into the future and see something that almost seems unattainable.  They thrive on that and know they can get it done.  It's a mindset.  It's who they are.  Do you have that?
QUESTION: Are you willing to enter the process of growth and development? 
If you want your team to be able to see into the future, you have to be willing to come to grips with the fact that you don't know everything. 
You have to be able to see the big picture and then bring other people along to realize that vision with you.  
Failure is necessary if you want to reach the bigger goals in life. 
"The future depends on what we do in the present." - Gandhi 
QUESTION: What are you doing right now that is going to affect the future?  
You need to get people who are futuristic around you.  
2) Leaders Live in the Opportunities
The status quo is not where leaders live.  
Adversity doesn't build character, it reveals it.
You really can't hide your leadership ability, whether good or bad or somewhere in between, during something like the pandemic.  
The more you can look for those opportunities, the better you will be equipped to handle them.
QUESTION: What are the opportunities that are in front of you right now?  What is something that you know to be an opportunity to grow you and your team, but you have decided not to act on that opportunity?  
3) Leaders Live in the Effort
It really comes down to one thing and one thing only. The effort that you put into the process.  
"Hard work wins."
QUESTION: Are you willing to put in the effort to put yourself in a position to be successful?  
Success - Nobody can guarantee it.  You can only work hard enough to deserve it. 
If you are willing to outwork the people on your team, and do it for them and for the success of the team, they will rally behind you.  
You can only give 100% out whatever you are doing at the moment.  
You are the one that controls your effort.  You don't control the outcome.  
MO's Final Thoughts:
Leaders, it is up to you to make everything that you do count.  If you can do this, people will follow you.  They won't follow you because they think that they are going to win no matter what, but they will follow you if they know that you are dedicated to excellence.  If you want your team to be great, and be successful, you have to decide right now if you're going to make it count. Leaders make it count.  Always.  
Special thanks to:
––––––––––––––––––––––––––––––
Work it out by LiQWYD https://soundcloud.com/liqwyd 
Creative Commons — Attribution 3.0 Unported — CC BY 3.0 
Free Download / Stream: https://bit.ly/l_work-it-out
Music promoted by Audio Library https://youtu.be/erSmdVocHO0
–––––––––––––––––––––––––––––