Episodes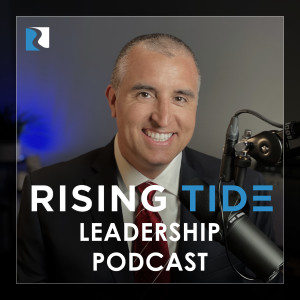 Wednesday Aug 16, 2023
Wednesday Aug 16, 2023
Episode 61: Leaders Sacrifice More
Personal Time and Energy Investment 
QUESTION: What kind of time and energy do you give to your team? 
Sacrificing personal time for work-related tasks is a hallmark of effective leadership.
QUESTION: Are you the one who gets it done? Are you willing to go the extra mile? 
When everybody else goes home, leaders stay to pick up the pieces and make things happen.
Decision-Making and Accountability 
Leaders demonstrate accountability by taking ownership of both successes and failures.

Accountability requires leaders to sacrifice their ego for the benefit of the team's growth.
True leaders understand that responsibility is a core of what they do in their role. They recognize they can't simply pass the buck to someone else. Instead, they step up and take ownership of their decisions, whether they're big or small.

True leaders say, "I want the buck to stop with me".

The best leaders don't whine and don't complain—they get things done. 
Development of Team Members 
This investment drives individual growth and contributes to the overall success of the team.

Find the right people first. 
QUESTION: Is your company finding the right people? 
If you take the time to find the right person, you will actually be doing less work than if you were to just fill the spot.

Burnout shouldn't happen. Make a change!

Talk to the decision makers.

You have to have trust in your leaders because those who you lead need to have trust in you. 

Get under a leader who knows how to pick the right people. 

Actively promote the career advancement of the people on your team. 
MO's Final Thoughts:
Leadership is a journey that demands continuous commitment and sacrifice. The higher you go, the more you have to sacrifice. As leaders, we set the tone for the entire team. Our willingness to sacrifice paves the way for others to be a stronger, more cohesive, and successful group.
Amazon Book Links:
"Extreme Ownership" by Jocko Willink - https://amzn.to/3ke0tSA
"Good to Great" by Jim Collins - https://amzn.to/3lXHuvQ
Special thanks to:
––––––––––––––––––––––––––––––
Work it out by LiQWYD https://soundcloud.com/liqwyd 
Creative Commons — Attribution 3.0 Unported — CC BY 3.0 
Free Download / Stream: https://bit.ly/l_work-it-out
Music promoted by Audio Library https://youtu.be/erSmdVocHO0
–––––––––––––––––––––––––––––