Episodes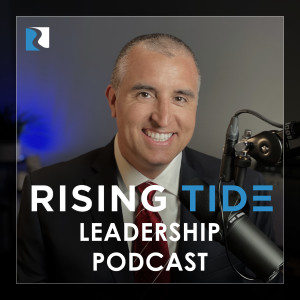 Monday Sep 11, 2023
Monday Sep 11, 2023
Episode 62: Nurturing Innovative Leaders
Leaders Empower Creative Mindsets
QUESTION: Are you helping your people take calculated risks to be creative? 
The best leaders promote innovation by creating an environment of psychological safety.
How to foster growth mindsets:
Create learning opportunities (books, seminars, etc.)

Continuous skill development 

Support personal projects
When you focus on empowering creative thinking in your people, it will ultimately lead to increased engagement and a sense of ownership among employees.
Leaders Focus on Collective Success
QUESTION: What does success look like for your team? What are the deliverables? 
BOOK: "Dare to Serve", Cheryl Bachelder
By fostering cross-departmental interactions and encouraging participation in problem-solving, leaders allow individuals with diverse skills and perspectives to unite towards a common goal. 
Two Techniques:
Diverse Problem-Solving Approaches

: Encourage teams to approach problems from different angles. Asking, "What's the angle you would take?"

Transparent Resource Allocation

: Ensure resources are allocated fairly across departments. 
Leaders Cultivate Purposeful Empathy
Leaders who value empathy inspire their team members, leading to a sense of belonging and commitment to the organization's innovation journey.
BOOK: "Pour Your Heart Into It: How Starbucks Built a Company One Cup at a Time", by Howard Schultz 
Once you get people on your side, believing in the same goal, you are going to create an unstoppable team.
QUESTION: How do you treat your people? 
Value your employees not by what they can produce, but by how you know their strengths connect with the rest of the people on your team. 

Be empathetic and learn about your people. Get to know them as more than just people on your team.
MO's FINAL THOUGHT:
Share your own experiences, challenges, and success stories related to nurturing innovative leaders. Do this with the men and women that you trust. Connect with someone today and ask them how you are doing when it comes to nurturing innovation.
Amazon Book Link:
"Dare to Serve", by Cheryl Bachelder - https://a.co/d/5cMSsDp 
"Pour Your Heart Into It: How Starbucks Built a Company One Cup at a Time", by Howard Schultz - https://a.co/d/2zIAwoC 
"Good to Great", by Jim Collins - https://a.co/d/8xrV4KA 
Special Thanks To:
––––––––––––––––––––––––––––––
Work it out by LiQWYD https://soundcloud.com/liqwyd 
Creative Commons — Attribution 3.0 Unported — CC BY 3.0 
Free Download / Stream: https://bit.ly/l_work-it-out
Music promoted by Audio Library https://youtu.be/erSmdVocHO0
–––––––––––––––––––––––––––––